Homemade Gluten-free Dog Treats


Recipe Gluten Free Dog Treats

Nowadays, gluten-free foods are not only available for humans. The dog food industry took a leap by selling more items that are gluten-free.
Whether pet parents assume it is a wiser decision to feed their dogs gluten-free foods. Or just human nature to go with the flow. It was still a hit. But there's a deeper reason behind this fad.
What is Gluten?

Gluten is a family of storage proteins, formally known as prolamins. It occurs naturally in cereal grains, including wheat, barley, and rye. Wheat is by far the most common gluten-containing grain.
Gluten handles the smooth, chewy texture found in many gluten-containing, grain-based foods. It also provides a multitude of culinary benefits.
There are particular grains that are gluten-free, such as the following: Corn, Quinoa, Rice, Amaranth, and Millet. Gluten can be found in both natural and genetically modified (GMO) foods.
GMO glutens are more likely to cause health issues than glutens occurring naturally. To find out what gluten sources are in your dog's food, look at the label on the package.

Why Gluten Is Harmful to Your Dogs

Recipe Gluten Free Dog Treats
Though dogs may not have actual celiac disease (with the likely exception of Red Setters). Gluten may be a troublesome ingredient for many dogs.
It can cause issues such as gastrointestinal discomfort, itchy skin, and ear infections, just like what humans experience.
Signs of A Potential Gluten Sensitivity in Dogs

Recipe Gluten Free Dog Treats
These are Some Signs that Your Dog Might Be Suffering from an Intolerance:
Dull, poor coat

Frequent diarrhea

Weight loss

Chronic ear infections

Red, itchy paws

Constant chewing or licking of paws.
If your dog shows these symptoms, you may want to begin trying a gluten-free diet for your dog.
Why Go for Gluten-Free Treats?

Recipe Gluten Free Dog Treats
Besides the fact that your vet is all down for it, many grain-free dog foods are on the market today. Plus, baking dog treats for your grain-free best friend is easy.
Making grain-free / gluten-free dog treats at home has many benefits. One of which is it allows you to use high-quality, nutritious human-grade ingredients.
Here are some easy recipes you can try at home.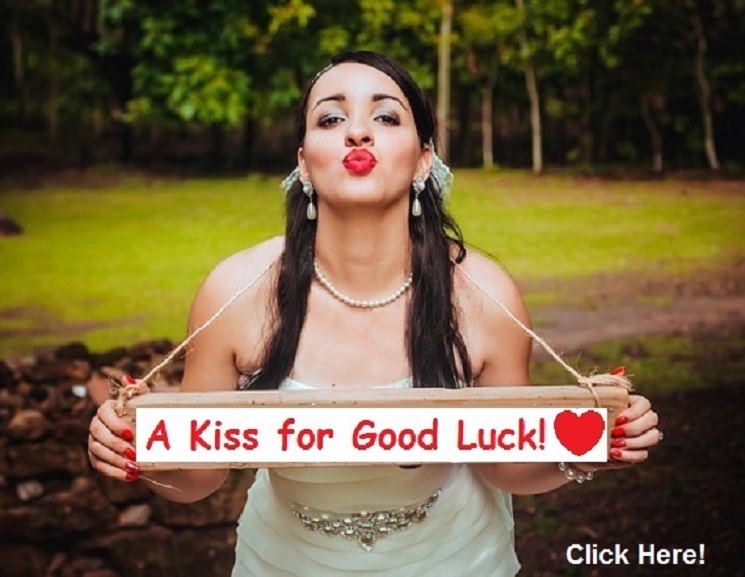 Easy 3-Ingredient Homemade Gluten-free Dog Cookies

Recipe Gluten Free Dog Treats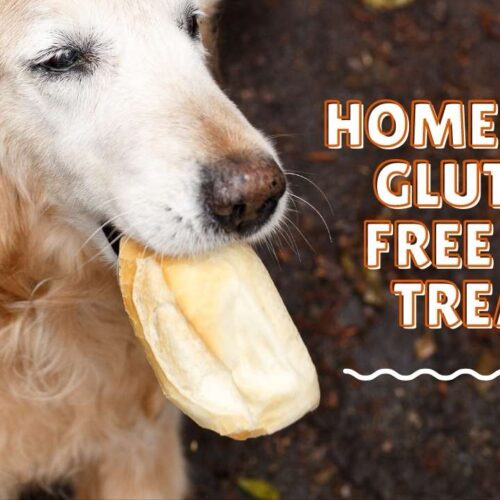 Easy 3-Ingredient Homemade Gluten-free Dog Cookies
Ingredients
1 ½

Cups

Chickpea Flour

½

Cup

Peanut Butter

Natural (90g, no sugar or salt added)

½

Cup

Pumpkin Puree

145g
Instructions
Making the Dough
Knead the chickpea flour, pumpkin puree, and peanut butter together in a big mixing bowl.

Knead until a dough ball develops. If the dough is too sticky, add 1 tablespoon of chickpea flour at a time until it is smooth and no longer sticky.

Cover the dough in plastic wrap and refrigerate for 1 hour after it has come together. This will stiffen the dough and make it easier to cut shapes from it.

Take the dough from the fridge and plastic wrap after an hour of chilling.

Set aside a cookie sheet or baking pan lined with parchment paper.

On the counter, you will be rolling out the dough, sprinkle chickpea flour. Even dust the rolling pin.

Sprinkle a little chickpea flour on the dough. Rub it in gently until it is lightly coated, then roll it out to a thickness of about ¼ inch to ½ inch thickness. If the dough is still sticky, dust both sides of the dough and flip it periodically before rolling it out.

Cut out shapes in the dough with a cookie cutter. To prevent the dough from sticking to the cookie-cutter, dip it in chickpea flour between each cooking cutting. Note: Do not fret if you don't have a cookie-cutter. A trusty knife can be used to carve them into squares or any shapes you like.

Place the cutout shapes on the parchment paper, about ½ inches apart.
Baking & Drying it Out
Pre-heat the oven to 350F (177C).

Bake the cookies for 30 minutes once the oven has reached the desired temperature.

If you have an electric oven, turn it off after 30 minutes and leave the oven door ajar for another 30 minutes. If you are using a gas stove, shut the oven door instead. To avoid burning the bottoms of the dog treats, we will dry them with indirect heat. Note: Make sure the bottoms do not burn by checking them every 10 minutes.

Allow them to cool at room temperature for at least 5 hours after they have finished drying in the oven. Try not to leave them out for a few days, or they will harden and dry out even more.
Storing the Treats
If there is enough ventilation, these can be kept at room temperature for 1-2 months.

Warning: You should not keep them in the fridge or in an airtight container because moisture can build up and cause them to spoil more quickly.
Frozen Banana Dog Treats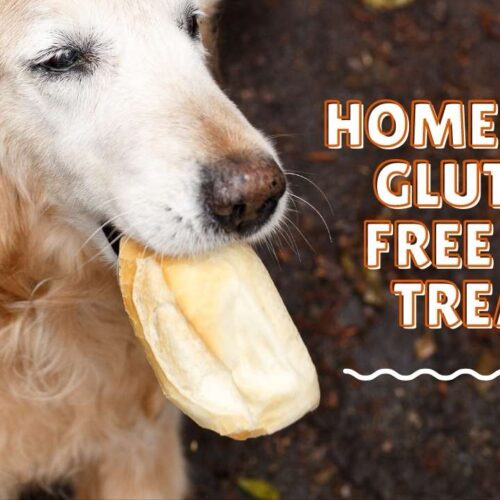 Frozen Banana Dog Treats
Ingredients
2

pcs

Ripe mash bananas

3

tbsp

natural peanut butter

24

oz

low-fat vanilla yogurt
Instructions
In a microwave-safe dish, heat the peanut butter until it is fluffy.

Combine all the ingredients in a blender and freeze in ice cube trays.

Toss treats from the tray for your pet to enjoy!

Cheesy Dog Pops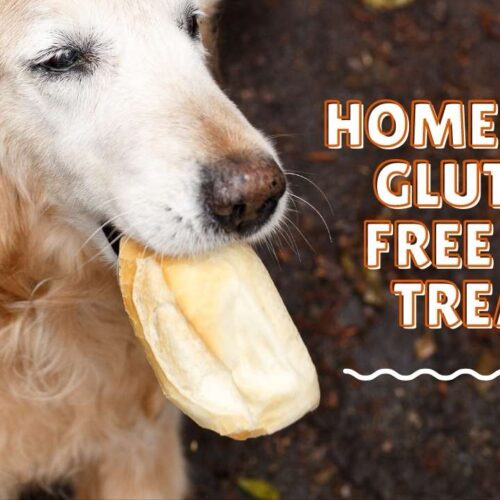 Cheesy Dog Pops
Ingredients
½

Cup

Grated cheddar cheese

3

tbsp

Olive oil

3

tbsp

applesauce

½

cup

vegetables, chopped

carrots or peas

1

cup

brown rice flour

oat flour
Instructions
Combine all the ingredients and mix well until sticky ball forms. Note: Pour in only enough milk to combine all the ingredients. 

Cover and chill for an hour. Do this before rolling into bite-sized balls or cutting into shapes on a floured surface.

Preheat the oven to 375°F and bake for 15 minutes, or until golden brown.

Set aside for a couple of minutes and let your lovely pups enjoy!

Takeaway
Gluten-free treats are high in protein, fiber, and essential vitamins, which help balance nutrients and make them a full meal. When you give your dog gluten-free treats, you will notice a significant improvement in their agility and behavior.
---
Author
I'm a paradox in the world of writing. I love writing but I hate literature. And oh, I like to publish my own book someday, but I haven't formulated the plot yet.